Behind Enova's Revamped New Hire Program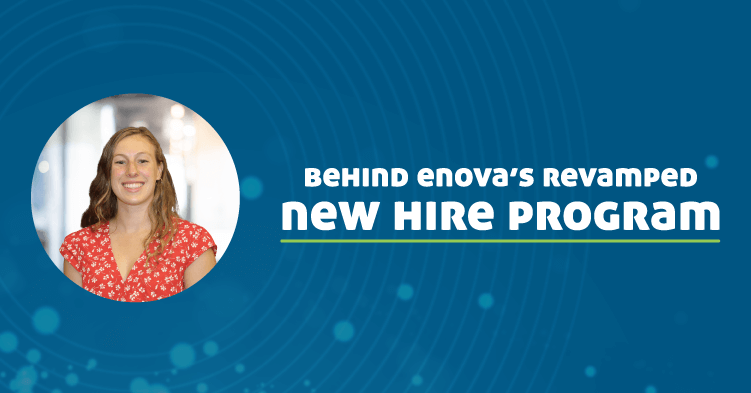 By: Colleen Muldoon, Talent Development Program Coordinator
New Hire Orientation is essential to the New Hire onboarding experience. A successful program affirms an employee's decision to join that company, allows the New Hire to transition into their role smoothly and improves employee retention. In fact, research has shown that 69 percent of employees are more likely to stay with a company for three years if they experienced great onboarding.
In 2022, Enova's recruitment and return to office goals presented an opportunity for our Talent Development team to examine, update and refine Enova's New Hire Experience. We dug into the structure and content of our processes and partnered with various stakeholders across the People, IT and Leadership teams to bring our collective ideas to life. We knew we had a good New Hire Orientation already, but we wanted to make it even better — especially since we were returning to the office with a new hybrid schedule and three new office locations. 
Our first goal was to ease any potential concerns New Hires may have regarding their first day with thoughtful and thorough communication. To do so, we reviewed all communications New Hires received, from signing their offer letter up until their start date. We included necessary updates relevant to our new remote/hybrid world and added content that would clarify in more detail what New Hires could expect (what they would need for day one, what the schedule entailed, etc.). 
Next, we wanted to ensure managers also understood the process and what was expected of them, since managers are integral in the onboarding process and are key drivers in employee engagement. We adjusted communications that managers received and created a manager checklist to keep everything in one place. The checklist includes steps like submitting a hardware request, encouraging team members to reach out and welcome the New Hire, and assigning a buddy (a buddy is someone who acts as a go-to person for questions around Enova's culture and gives an office tour for all hybrid employees). 
Third, we wanted to ensure all New Hires experienced a cohesive and inclusive day one program. To name a few more changes: we updated the start time and remained virtual to accommodate all time zones/ locations, added purposeful introductions with shared pronouns and preferred names while revising the flow of our sessions.
Furthermore, we wanted to ensure New Hires understood Enova as a company and felt confident heading into their new roles. Using feedback provided from our New Hire survey and previous Employee Opinion Survey (EOS) results, we found there was an opportunity to more effectively illustrate Enova's Mission, Vision and Values through our New Hire Presentation.  Enova's culture is an expression of our core values, so we made sure New Hires had time to stop, pause and think about our five Enova Values on their first day. For example, we use an exercise that asks New Hires to read through all five values and then share the one that most closely resonates with them. This also provided an opportunity for New Hires to engage with each other. Additionally, Steph McNutt, Talent Development Specialist, took the lead to update content focused on Enova's business and charitable initiatives, customer stories, feedback and recognition rewards, referral program and more. 
Lastly, the first day can feel like information overload. To combat this, we send a follow up email with various resources, links and helpful guides. We also utilize online learning to allow New Hires to learn at their own pace. We go beyond compliance training by providing courses on Unconscious Bias, How to Be an Ally, Customer Call Listening, Exploring Enova's Departments and more.
This project included changes far beyond what was outlined above. An immense amount of thought went into even the smallest of changes and considerations, and we would not have been able to make (and continue to make) these improvements without the support and efforts of several different teams. A special thanks to our Help Desk, People Operations, Recruiting, Benefits and Talent Development teams.