Enova Joins Thousands at Grace Hopper to Celebrate Women in Tech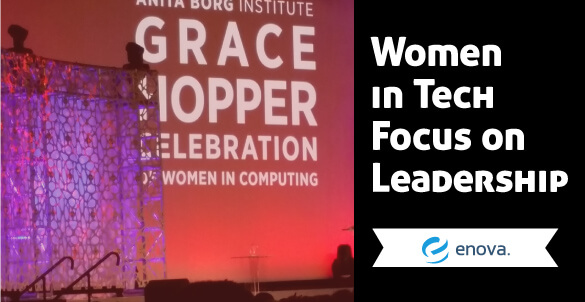 By: Valerie Concepcion, Lead Software Engineer
The 2014 Grace Hopper Celebration of Women in Computing (GHC) was held on October 8 – 10, in Phoenix. The conference drew over 8,000 attendees from over 67 countries all around the world, with the goal of celebrating the research and career achievements of women in the fields of science, technology, engineering and math (STEM). Through a variety of guest speakers and learning sessions, both men and women were inspired to envision the future of these differing fields, and encouraged to engage in discussions on topics such as data privacy and security, wearable technology, the Internet of Things (IoT), technology for social good, and diversity and collaboration within the global tech community.
Three of Enova's own women in tech — Aleksandra Bondzic, Parul Schroff and I — had the opportunity to attend GHC, and returned to Enova with valuable reflections and ideas on what's next for women in tech.
Grace Hopper was a remarkably accomplished individual — the founder of one of the first modern programming languages (COBOL) and a U.S. Navy admiral, among other achievements. To this day she exemplifies women's unique potential to contribute, lead and inspire. As Satya Nadella, the CEO of Microsoft, exhorted in a plenary session interview, "Each of us has a few super powers. Go exercise them." I believe that one of the keys to unlocking each woman's unique super power is mentorship, a topic that resonated throughout the conference. I give props to our tech recruiting team here at Enova, who are doing an excellent job identifying and bringing in top female talent, despite the gender gap. As I look at the cluster of desks surrounding me today, it's a majority of women — and seriously, that's awesome. However, it's critical now that we take on the responsibility of mentoring these women so that they are supported and can produce their best work. We need to see women not only in positions of leadership, but across all levels of professional development.
I also left the conference with a heightened appreciation for Enova's commitment to open source technologies. In recent months, I've developed a personal interest in open hardware platforms like the Raspberry Pi and Arduino, taking up fun side projects like building a Wiimote controlled LEGO car. At GHC, I saw some amazing things that people have been able to prototype with similar technologies, tackling huge problems like sustainability and limb replacement. This really put into perspective the skills and potential that we as technologists have to solve problems much bigger than ourselves. I left the conference determined to keep my eyes open for creative solutions to these types of big problems, as well as committed to contributing to open source projects that support nonprofits making an impact outside the digital space.