Enova Hosts Another Successful Ruby Meetup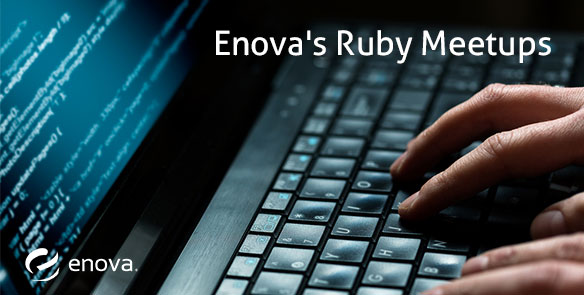 By: Paul Haddad, Software Engineer, and Sal Ortiz, Software Engineer
The second week of February was business-as-usual at the downtown Chicago offices of Enova International. In conjunction with the Chicago Ruby Meetup group, Enova hosted Ruby Hack Night, and Ruby developers from all parts of Chicago were in attendance.
More than 60 of Chicago's Ruby devotees regularly attend Ruby Meetup. They represent all levels of knowledge and experience, and they're all willing to work with other members of this growing community to help improve each other's skills. Some of these events are talks and demonstrations from well-known developers; others are Hack Nights, where teams work together to solve a programming challenge. On this most recent Hack Night, everyone came out to solve a puzzle familiar to word buffs: Best Scrabble Opening.
Enova International hosts many such events for Chicago's Ruby, JavaScript and PostgreSQL communities, providing a forum for members to mingle with each other and network, share valuable knowledge, and enjoy food and drinks provided by Enova.
Each event can be found on the Meetup website for its respective group. Everyone is welcome and encouraged to participate, no matter their skill level.
Ruby Hack Nights, among many other events, are organized by the ChicagoRuby group (www.meetup.com/ChicagoRuby).
JavaScript meetups are organized by the JS-Chi group (www.meetup.com/js-chi).
PostgreSQL events are organized by the Chicago PostgreSQL Meetup Group (meetup.com/Chicago-PostgreSQL-User-Group).