Enova Donates Hats and Gloves to Those in Need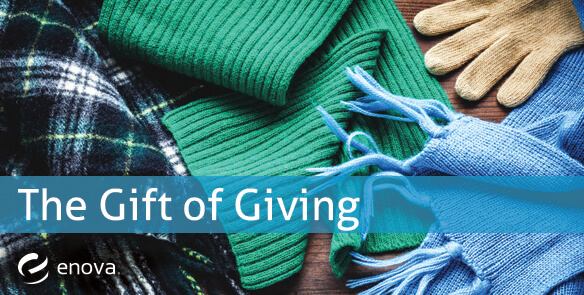 By: Kaitlin Arntz, Public Relations Specialist
From Thanksgiving through early December, Enova participated in its first-ever Chicago Cares: Warm Up Chicago drive. While Chicago plays host to many coat and canned food drives for the less fortunate, Warm Up Chicago is the only citywide drive to collect some of the most essential cold-weather items: hats and gloves.
Since Enova is full of motivated and driven individuals, we decided to make things interesting by splitting the company into teams, and offering a prize to the winners. As the donations came pouring in, it became clear that the spirit of giving, combined with the spirit of competition, can create a powerful force for good.
At the start of the competition donations trickled in slowly. At first I was worried we would get a less-than-stellar response, but after some reconnaissance, I soon realized that there was quite a bit of planning and scheming happening behind the scenes. It seems that some floors had simply chosen not to show all their cards. As the final week approached — BOOM! Suddenly a number of teams were in maximum donation mode! Floors 9 and 15 quickly emerged as the leaders, and Warm Up Chicago became a neck-and-neck, down-to-the-wire, race to the finish. One floor came in with a box of 500 items. The other replied with a wholesale order for 300. And so it went. At the 11th hour, the 15th floor came in with a whopping order of 785 items to pull ahead for the win.
Not only was the Warm Up Chicago drive a fun exercise in friendly competition, it was also a huge success in giving back! Thanks to the unbelievably generous support of Enova associates, we were able to provide Chicago Cares with 2,652 items! That's nearly 25 percent of their total requests for the Chicago metropolitan area!
I am proud to work alongside such unbelievably generous colleagues. Due to Enova's efforts, thousands of Chicagoans who otherwise would have gone without crucial cold-weather gear this winter will now be able to stay a whole lot warmer. Here's to a warm and happy holiday season!