A Banner Year: Enova in 2014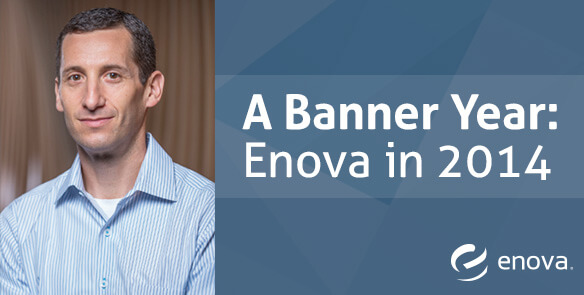 By: David Fisher, CEO
As December quickly ends, we can all look back on a year of exciting milestones for Enova. We celebrated our 10-year anniversary, launched several new product pilots, gave back to our communities in new ways through Enova Gives, and listed on the NYSE as an independent public company. We've come far as a company and positioned ourselves for continued success. Thank you to everyone for your hard work and dedication.
Celebrating 10 years
2014 marked the 10th anniversary of Enova's first online loan. We've come a long way since our early days as a startup with a handful of employees and one product in one country. Today, Enova's more than 1,000 associates serve customers in six countries around the world with many different products designed to help people and businesses get the credit that fits their needs. One thing that hasn't changed is that Enova is still a tight group of smart, hard-working people all striving to add value and generate growth.
Launching new product pilots
A little over two years ago, we set our strategy to "Execute, Innovate, and Diversify." In 2014, using our flexible online lending platform and skilled analytics team, we launched pilots for several new products in the U.S. and internationally, including:
OnStride Financial – Enova's installment loan product in the U.K. with tiered pricing designed for "Near-Prime" borrowers – a new market segment
Simple Credit – another installment loan product designed for "Near-Prime" borrowers, this time for an entirely new market, the growing middle class in China, and in partnership with an established Chinese company
Simplic – a short-term installment product aimed at middle-class borrowers in Brazil
Headway Capital – our first small business product, a line of credit for businesses in the U.S.
All of these pilots demonstrate the team at Enova's ability to develop innovative new products and the flexibility of our online lending platform and business model, qualities that put us one step ahead of our competitors.
Listing on the NYSE
On November 13, Enova spun-off from Cash America (thank you to Cash America associates for eight great years together) and listed on the NYSE as an independent public company trading under the ticker symbol "ENVA." This symbol represents years of hard work by our talented team members, as well as the confidence shareholders have in our continued growth and success.
Giving back to our Communities
Enova forged new partnerships with charitable organizations that focus on helping people improve their lives. In April, Enova began a partnership with Chicago Cares and Enova associates were able to plant community gardens, paint schools, and run a science fair for elementary school students. In total, volunteers donated 540 hours to worthy causes through our Chicago Cares partnership in 2014. Enova also launched the Enova Gives Associate Volunteer Day, which provides full-time corporate associates with one paid day per calendar year to volunteer for a nonprofit organization of their choice.
Looking ahead to 2015, I am excited about what's to come for Enova. Guided by our spirit of innovation, our talented team members will continue to drive new ideas and improvements forward during our first full year as "ENVA."
I wish all Enova customers, associates, business partners, and shareholders a healthy and happy holiday season with friends and families and a prosperous 2015.