Enova Celebrates with Heaps of Holiday Spirit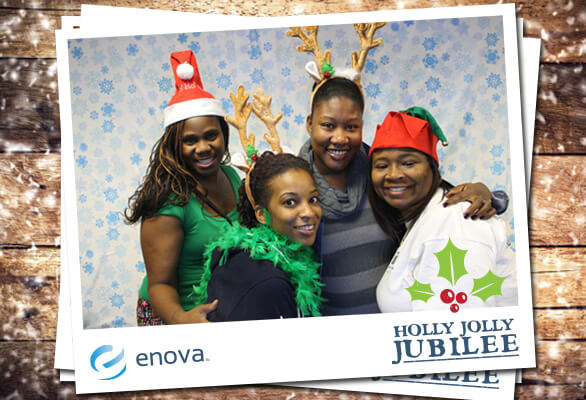 By Kaitlin Arntz, Public Affairs
December 19, 2013
The holidays can be a terribly busy time of year for everybody — whether at work or at home — which is why Enova places a premium on providing stress-free, fun-filled events and extras to all of its associates. From parties to perks, Enova's end-of-the-year extras help ease team members into the cold months, while keeping them focused and ready to work.
For the Enova call center, each December brings a holiday party created to celebrate team members and their hard work. This year's 'Holly Jolly Jubilee' provided a lively afternoon of food and fun for call center associates. Between a gourmet, catered meal, holiday-themed photo booth and a thoroughly impressive array of raffle items, the call center operations team was very pleased with the holiday celebration.
According to Customer Service Manager Charise Merritt, "The food was phenomenal and the photo booth will provide us with lasting memories. Our teams really appreciate the prizes, and it has gone a long way to make everyone [feel] valued."
As for the gifts, associates had the opportunity to take part in a raffle for a vast range of premium electronics, including desktop computers, tablets, gaming systems and even TVs!
In the thick of the holiday season, Enova makes its team members a top priority. The end of the year can lead to looming deadlines and crunched time for many, and the added stresses of gift shopping and party planning intensify what can already feel like an awfully intense time of year. At Enova, associates have the luxury of working for a company that understands this and works very hard to add a bit of holiday cheer wherever it can.