Enova Bowls for Kids' Sake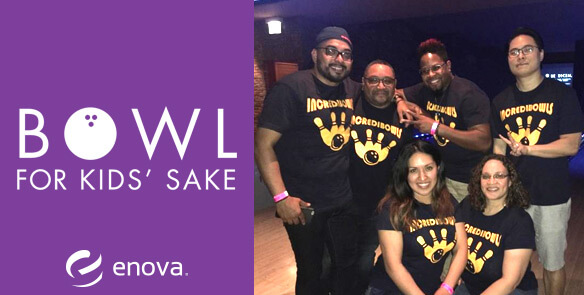 By: Kaitlin Arntz, Public Relations Senior Associate
It's been four years since we bowled our first strike for nonprofit partner Big Brothers Big Sisters (BBBS), and our annual Bowl for Kids' Sake event just keeps getting better. As Enova's sponsored fundraising and awareness-building event for BBBS, Bowl for Kids' sake is an opportunity for Enova team members to show off their bowling skills, enjoy appetizers and drinks, and support a great cause: providing children facing adversity with strong and enduring, professionally supported one-to-one relationships that change their lives for the better, forever.
This year, nearly 150 people attended, and even non-bowlers could get in on the action. Since 2017 was Enova's 5th year hosting Bowl for Kids' Sake, we decided to switch locations to provide a change of scenery as well as alternate activities for non-bowlers — pool and ping pong. In addition to Enova's corporate donation, Enova's bowling teams raised over $1,000 for BBBS. The funds will help the program change children's lives by matching them with caring adults to guide them on a path to success.
BBBS has been a partner of Enova's since before I joined the company in 2013. In fact, since 2009, we've supported the nonprofit by hosting onsite mentoring. Every two weeks, "Littles" come to Enova to spend quality time with their "Bigs." These sessions include both one-on-one and group activities to help Littles develop good character and relationships — and of course have some fun! During onsite mentoring, the group discusses topics such as academic success, relationship building and increasing confidence. Although these sessions are all about helping the Littles, ours Bigs have mentioned more than once that these sessions provide great reminders for them as well!
A new group of Littles will join us in the Fall, and we can't wait to kick off another school year of onsite mentoring. To learn more about Enova's partnership with BBBS and other nonprofits, check out Enova Gives.