Chicago Cares: Volunteer Event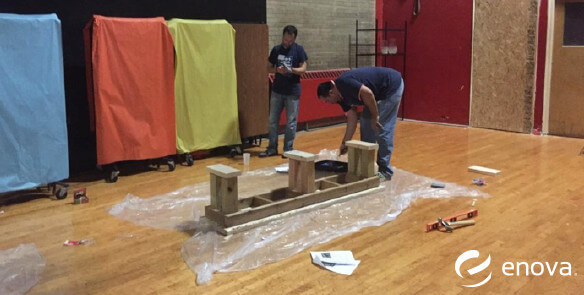 By: Divya Somaiah, BI Developer
Recently, the Enova team got the chance to partner with Chicago Cares for a volunteer day at Belmont-Cragin Elementary. There were 14 of us there to represent Enova and to happily volunteer our efforts to the school.
As soon we arrived, we were taken to the auditorium and greeted by Principal Stacy Stewart and a group of excited kiddos, ages 8 – 13. Principal Stewart noted how happy she was to have us there and asked us which project we'd like to take on for the day. We broke out into smaller groups, and out of a few different options my group choose to construct and paint two wooden benches.
After we were given step-by-step instructions and all the raw materials, we got to work!
We quickly got to deciphering the instructions and agreeing upon who would do what. After a lot of brainstorming, measuring, lifting, hammering nails in the wrong way and sweating over pulling those nails out, we completed both benches! The entire project took 2.5 hours and was a really fun experience.
Finally, it was time for the best part — painting!
At the end of the day, I felt very satisfied for all the hard work we put in and that we were able to give back. Due to our busy schedules, many of us just spend time thinking about volunteering, rather than actually doing it. Thanks to Enova, we were able to actually put those thoughts into action and make a real difference. Enova is providing a fantastic platform to make a huge impact in others' lives — as well as in ours!