Meet Nick Benos, Security Engineering Team Lead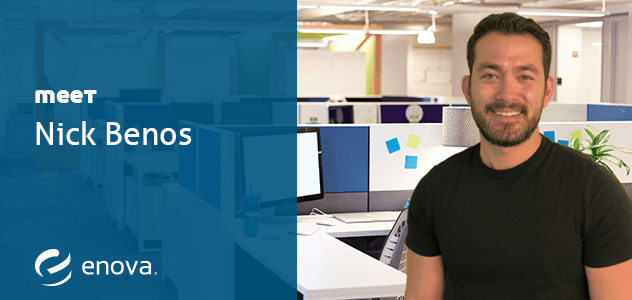 We sat down with Nick Benos, Security Engineering Team Lead, to learn more about his team and leadership style.
What is your leadership style/philosophy?
I've taken what I've experienced myself with past management and adapted that to my style. You learn from the bad and take from the good. I love giving my team the autonomy to complete their work. Never micro-managing, but still providing the guidance to be successful.   
What does your team's day-to-day work look like?
Ever changing! But that's what make it so exciting. Daily security scans and reports could reveal critical vulnerabilities we need to patch. Security monitors could dictate we investigate suspicious traffic or files we see on the network. Project work is also a constant. You might be working on the latest firewall upgrade, NAC implementation, DDoS solution or red team exercise. If it's security related, we deal with it, and the fun never ends.  
What is the future of Security Engineering at Enova?
This is an exciting topic for me. In general, the security landscape is dynamic and ever changing. Keeping up with this is a challenge, but constant team discussions and collaboration ensure we can adapt. Traditional security will never go away. Networks will always need firewalls, and endpoints will always need antivirus/malware protection. But as technology advances and moves into the cloud, networking shifts to SDN, and IoT devices are being turned into botnets, our security team already has projects in place to address these concerns.  
How have you seen Enova Security Engineering evolve over the years?
When it comes to running a security team or program anywhere, a common headache encountered among security professionals is lack of support from leadership. This is the complete opposite at Enova. From day one, the security engineering team has had the full support from top down. The team started with 2 engineers in 2015. When we needed an additional headcount to run more day to day operations, we got it. Over a year ago, we realize the necessity to get an engineer that focused entirely on application security and that position was created. Finally, during our annual Enova technology conference (yeah another cool thing we do) it was announced that one of the main tech goals for 2018 was enhancing our security posture. I can't stress the importance of this support as it makes running this team more efficient and the company as a whole more secure.  
What is a fun fact about you most people wouldn't guess?
I once won a singer/songwriter contest and was flown out to California to meet with a record company and open up for a grammy award winning artist. You'll have to be a member of the security team in order to hear the rest of the details.
Want to be part of the team? Apply here.