Ringing of the Bell Contest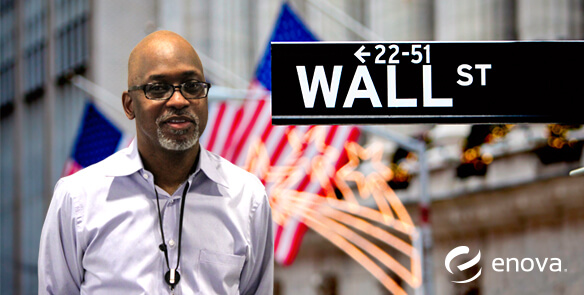 Enova recently ventured to New York City to ring the bell at the New York Stock Exchange (NYSE)! Many Enovans made the journey with our CEO David Fisher to celebrate the major milestone.
In the weeks leading up to the ringing of the bell, David Fisher held an essay contest where he asked interested associates to write about an experience they have had as an Enova employee.
Anthony McGee, an Application Support Representative for CashNetUSA, was selected as the winner! Read his submission below.
By: Anthony McGee, Application Support Rep
A few years ago, I had the pleasure of speaking to an elderly lady who had gone on our website and completed an application. I remember her being a soft-spoken woman who had seen a commercial on TV and decided to apply for a loan. She was interested in getting a loan to help her daughter.
The customer asked if I would stay on the line while she called her daughter. I was more than happy to oblige. Once she got in touch with her daughter, the mother explained what was happening and how CashNetUSA could help during a time of the daughter's financial need. While on the phone with me, the nurturing mom signed the agreement and told her daughter money was on the way. After that, all I heard was crying.
The daughter was overcome with emotion and a sense of relief, and the mother, still speaking in a soft tone, provided words of reassurance letting her daughter know that everything would be okay. I offered few words and allowed the mother and daughter to share tears of joy with loud sobbing coming through my headset from the daughter. I felt good. I felt proud. I had to refrain from sharing my own tears. I was able to operate as an owner and help someone in need.