Pair of Articles Feature Enova's Joe DeCosmo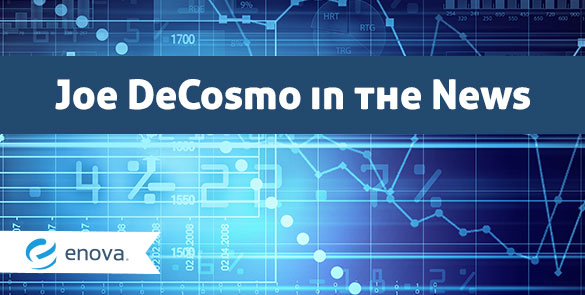 By: Kaitlin Arntz, Public Relations Specialist

September 24 was a good day for Joe DeCosmo and a good day for Enova, as the Chief Analytics Officer was featured in the news not once, but twice — in PCWorld and TechTarget.
Joe's PCWorld feature came in an article detailing the Midwest's burgeoning tech scene. Specifically, the ways that a Midwestern location can actually benefit a young company in terms of talent acquisition. While the article covers a variety of issues, Joe focuses on the competitive nature of a Chicago base of operations, and the fact that competition with tech companies on the coasts has diminished in recent years.
In TechTarget, Joe discusses modern analytics in a feature titled "A View from the Chief Analytics Officer." The article outlines the state of analytics in business, and specifically the ways that Enova's role as an online company positions us as a leader in the field of analytics.
Read Joe's PCWorld feature here, and the TechTarget article here.