New Milestones for Enova Gives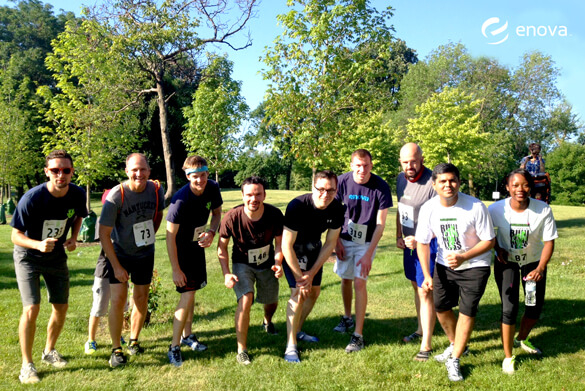 By: Mike Gilhooly, Public Affairs Manager
July 16, 2013
From mentoring children at Big Brothers Big Sisters to providing students with academic, professional and financial support as a sponsor of One Million Degrees, Enova is committed to strengthening the communities it serves through its philanthropic and charitable giving program, Enova Gives.
Just this past weekend, Enova employees participated in the 3rd Annual 5K RUN! To End Homelessness held in Chicago's Douglas Park.  Enova helped raise nearly $6,000 for the event, which benefits A Safe Haven, an organization dedicated to transforming lives from homelessness to self-sufficiency with pride and purpose.  In May, Enova also hosted a career workshop to support A Safe Haven and later sent its Enova U group to help pack meals for A Safe Haven members.
To further demonstrate Enova's commitment to charitable giving and community development, Enova Gives also introduced a new and exciting employee charitable match program. The program encourages employees to donate to eligible charitable organizations and offers to match their contributions  — up to a pre-determined dollar amount per person each calendar year.
Enova is always looking for unique opportunities to make a positive impact through strategic philanthropic and charitable giving, especially in its hometown of Chicago.  Enova Gives guidelines for engagement include investing in organizations that:
Are dedicated to strengthening and broadening access to quality education;
Improve the lives of children and young adults in need;
Provide access to high quality financial literacy programs.
Making a difference and being a strong corporate citizen are core values for Enova and its Associates.  We take great pride in making a difference!