New Benefits at Enova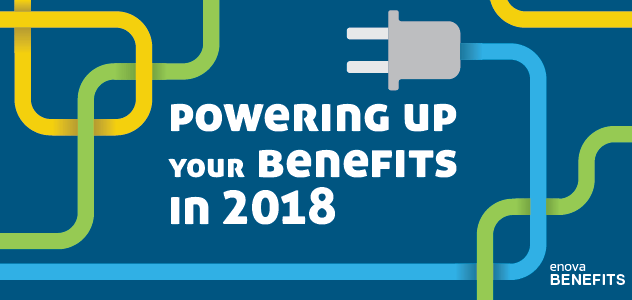 By: Traci Mills, Benefits Manager
Have you ever heard a company say they listen to their employees? Well, at Enova it's true! Six months ago I came to Enova as the Benefits Manager. I knew I wanted this position when I interviewed with the team. Not only were the people I met smart and articulate; they were passionate about Enova employees and the Enova culture. And they were candid about their thoughts on employee benefits – we knew from our Employee Opinion Survey (EOS) it was something employees were asking us to work on. As a new member of the Enova team, it was a great opportunity to bring some new solutions to the table.
My first task after starting at Enova was to read through the EOS survey results so I could better understand what our employees were thinking and saying. I had a few ideas of my own, of course! In a variety of ways, our employees told us they wanted Enova to provide more education about their benefits, and they asked for better tools around selecting the best medical plan option for them. They also wanted a new medical insurance carrier. When it came to our 401(k) plan, they also asked for a shorter waiting period for new employees and wanted the employer match to be paid per pay period instead of annually.
Fast forward six months. We've made significant changes to address employees' feedback. Let's start with our insurance carriers. Beginning 1/1/18 we'll be moving to BCBS of Illinois for medical insurance and Delta Dental for dental insurance. With these changes, our employees will have access to broader networks and better discounts – which will mean lower out-of-pocket costs for our employees.
With our move to BCBS come two new consumer directed programs; Benefit Value Advisor (BVA) and Blue Member Rewards. BVA is a "concierge service" where employees call a benefits advocate for assistance with an upcoming medical procedure. The BVA advocate can provide information, help with the pre-certification process (if required), provide information on cost at various high quality provider locations, and even book the appointment.
My favorite part about BVA is the cost comparison feature. Let me elaborate. We shop for everything in our lives right? We want the best online prices, and we shop around for cars, homes and even vacations. Why wouldn't we shop for healthcare too? If two providers have the same quality outcome and one has a cost of $800 for an MRI and the other has a cost of $1500, and both are within the same 5 – 10 mile radius of your house, which one would you choose? Remember you're paying 10% – 20% of the cost in co-insurance. Why wouldn't you want that information and the choice to be a better consumer? Plus, with BVA's Member Rewards program, you get cash back for choosing a lower cost option (think Discover and Ebates!). Yep, you got it — someone else will do the work for you; the choice is yours, but if you select a lower cost option, you not only save money on the co-insurance you'll pay, but you also get cash back. Cool!
Enough about medical and dental. Let me tell you about the new voluntary benefits. We're introducing a new legal benefit through ARAG and an Identity Theft Protection benefit through InfoArmor. Both are the best in the business at what they do. With over 12,000 credentialed in-network attorneys, ARAG guarantees there's an attorney within 30 miles of every customer. Some of the legal covered services include: wills and estate planning, buying and selling a home, consumer disputes and adoption. There's no out of pocket cost for covered services. Our employees are young. They're getting married, starting families and buying homes, so this benefit fits well with who we are as a company. As for the identity theft protection benefit, InfoArmor offers proactive credit monitoring. They not only watch your credit and identify risks to your credit on the web; they'll also restore your credit if your identity is stolen. In addition, they can monitor your kids' accounts for signs of cyber bullying.
Finally, we've made a number of improvements to our 401(k) plan. The 6 month waiting period before a new hire can join the savings plan is gone. New hires will now have a 30 day wait to join the plan. In addition, the employer match will be made each pay period instead of annually.  We've made other changes as well! Enova's Retirement Committee worked hard to develop a new fund lineup that includes active and passive funds along with a suite of target date funds from Vanguard, offering more choices with lower fees.  And we're introducing a new feature. Employees will have an option to select a different contribution amount for their annual bonus or, for hourly employees, their monthly commission. Many of us find it difficult to put money aside each pay period towards our retirement. We know we aren't saving enough, but we have bills to pay. That's where this option is great. Having the choice to put a greater percent of a bonus or commission check towards retirement enables you to save a little more towards retirement and reduce the taxes you'll pay on that money.
To say that I'm excited about the progress we've made over the past 6 months would be an understatement. And our employees are excited too! We're just kicking off Open Enrollment and will be hosting a number of employee education sessions. We want to make sure our employees understand their benefits, feel confident making their elections and know where to go to get help.
I'm proud to be an Enova employee. We have a great culture, smart people and a leadership team that's willing to listen and make changes when it makes sense. There's still work to do, and I look forward to what comes next!