Networking with Women in Tech: Genevieve Thiers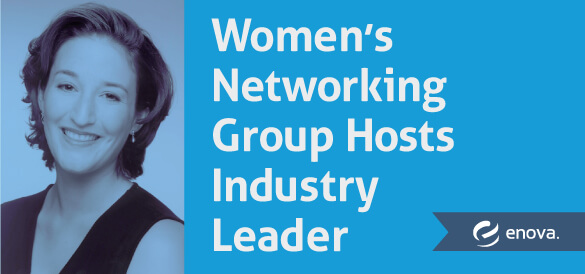 September 19, 2014
By: Jessica Brooks, Organizational Development Associate
Innovation and entrepreneurship are engrained in Enova's culture, which is why we look to connect with others who embody those values whenever we can. The Enova Women's Networking Group recently welcomed guest speaker Genevieve Thiers — founder of Sittercity.com and co-founder of two other online ventures — to our Chicago office to speak about her experience, and give advice to aspiring entrepreneurs.
Genevieve welcomed questions from the group, shared her tips on how to effectively build on an idea, and facilitated a discussion on how to get more women interested in technical fields. Just as she does in her role as an 1871 business incubator board member, Genevieve brought a passion to the talk, expressing enthusiasm to mentor those interested in disrupting traditional business models with ingenuity and technological savvy.
Here are a few of Genevieve's key pieces of advice:
If you have an idea, create your MVP (minimally viable product) and proof of concept.
Learn to code, particularly using Ruby on Rails. It can only help you.
Crowd-source solutions (similar to our Enova value of Best Answer Wins).
Delegate! You don't need to do it all.
Empower and support others.
Believe in yourself.
It's OK if you fail — just TRY.
The Women's Networking Group is looking forward to hosting more of these events in the future. For more information, contact Ramona Stefan at rstefan@enova.com.