Meet Mariusz Lenart, Technology Manager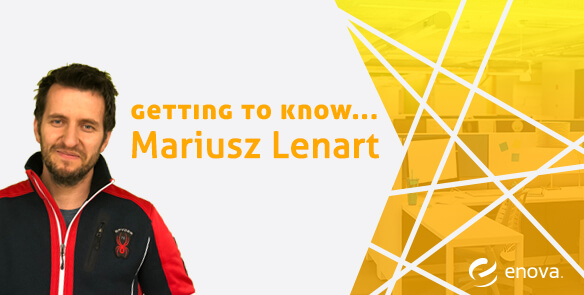 We're taking a look at our Network Engineering team through the eyes of Mariusz Lenart, Technology Manager.
How do you contribute to Enova's mission (Helping hardworking people get access to fast, trustworthy credit)?
While this may not be immediately obvious, the Network Engineering Team is responsible for creating reliable, highly available and scalable network infrastructure to give our customers access to our products. Our applications communicate internally and also establish connectivity with 3rd party vendors. Our routers, switches, and firewalls must perform their roles as transparently as possible without impacting customer connectivity. As architects of the network, we ensure that customers can access resources in a fast and easy way.
What team(s) do you collaborate with most outside your own?
We collaborate the most with the Security Engineering team. Networks bridge connectivity between trusted internal infrastructure and unknown public networks, so our Networking team keeps security in mind when creating those connections. They have to ensure that we are keeping our infrastructure secure. This provides a unique opportunity for both teams to learn — network engineers gain security knowledge and our security engineers get to learn network architecture.
How do you spend your time outside of work?
Six months ago, my favorite bakery changed their bread recipe and my family no longer liked how the bread tasted. After some research, I decided to solve this problem by making my own bread and, to my wife's dismay, purchased several professional bread-making tools. After several months of trial and error, I finally discovered a delicious bread recipe! Now I've become a victim of my own success and have to bake four loaves of bread every weekend. Sometimes my three children even ask for fresh rolls with breakfast.
What does a typical day look like for you?
I'm lucky because my day consists of both technical and non-technical tasks.
Technology is a rapidly evolving space, so my day often consists of researching and helping the team figure out how to leverage new technology to improve network and security architecture. As a manager, my primary focus is on making sure that both the Network and Security teams have everything they need to meet their career goals.

What is the most exciting day you've had at Enova?
Since my first days at Enova, our Network and Security teams relied on two different security platforms to accomplish similar functions. We have always wanted to consolidate those functions and migrate to a platform that allows for more flexibility, but the task was very complex and required complicated restructuring in all of our primary locations.
In 2018, both the Network and Security teams decided to tackle this task together. We worked together for six months, re-creating and migrating our firewalls one location at a time. We successfully migrated the final and most complex firewalls in September. This was a very big endeavor and both teams accomplished their goals. It was extremely exciting to see several teams work together on planning, executing and completing the task they set out to accomplish.