Meet the Enova Interns – Nathan Tornquist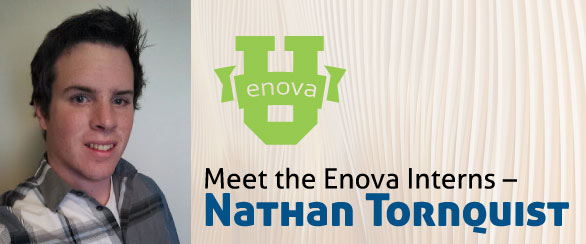 July 29, 2014
I have been working at Enova for six weeks in software engineering. The core values were brought up often during the recruiting process, but even after the short time that I have been working it's clear how solid those values are. Any company can employ programmers — it isn't hard to offer a position and hire people — but Enova builds programmers.
I will be working here for 11 weeks total this summer, and the first three were spent in training with a collection of very talented professional trainers. I haven't seen dedication to a temporary worker like that anywhere else. Throughout the training process it was clear that the training was not just for the new hires. Enova has recently created an extended program to make sure that all the developers stay current, and are able to continue not only improving their skill set, but expanding it. Here, the term "full stack engineer" is more than just a buzzword.
Outside of the technical spectrum, Enova has a very unique environment. The software engineering department feels like a startup/consulting firm within the larger business. It's a really cool atmosphere and means that there is opportunity to move around and create new systems.
There's a lot of diversity at Enova, and people matter here. It's clear that many employees are friends, and from a management perspective there is respect for people's lives. Instead of being utilized as a software producing machine, people are assets and their personal time matters. Certainly times exist when extended working hours are needed, but under normal circumstances people are expected to have lives. Unlike some companies, Enova doesn't own your entire life and shows no interest in doing so.
Thus far this has been a fun internship. I've mainly written on the technical setup of the company and the opportunities I see there, but with Enova being in Chicago, there are always cool things to do outside of the office. Throughout the summer there are events planned for the interns, but even without Enova's planning, the intern group and people we have met here are very open to exploring and seeing new things. This is a very friendly place, and it has been a fun and exciting summer so far!