Meet Palak Bhesania, Senior Technical Product Analyst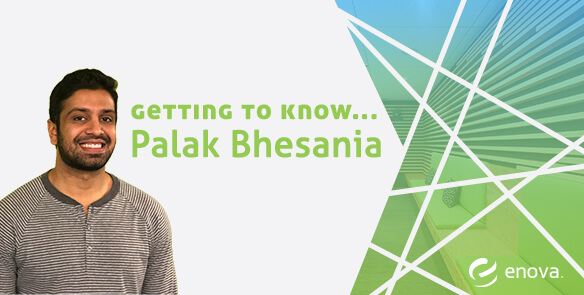 We sat down with Senior Technical Product Analyst Palak Bhesania, to find out why he chose Enova and how he's liking his role six months in.
What is the most impactful project you have worked on?
The most impactful project I have worked on is the Accounting Simplification Initiative. This is an enterprise-wide effort to create an easily verifiable and accurate accounting method that can be used across all our products. This is most impactful for me because it is the first major initiative that I am owning that will have impacts across multiple product lines.
What is your favorite perk and why?
Summer Fridays! Every Friday from Memorial Day to Labor Day, corporate employees can leave the office at 2 P.M. as long as all their work is done. I only got to enjoy two last year but am definitely looking forward to having them again this year. It is a great chance to get to know your coworkers better outside the office and explore the city as well.
What is different about the people at Enova?
You truly do work with some of the most intelligent people. Everyone has a very different way of thinking and is given the freedom to do so. This allows us to come up with some very creative solutions. Everyone is also really helpful and always available to collaborate when you need an extra hand or need another set of eyes.
How do you see Enova's values reflected in the work you do?
Enova really lives up to the value of "Best Answer Wins." Project requirements are not set in stone, and everyone has the ability and chance to find the best solution. From day one, I felt like I could help provide a solution, even as a newbie. Giving everyone a chance to solve a problem and impact Enova is an amazing feeling and makes me feel like my contribution is valued.
What was your favorite part about your onboarding program at Enova?
I liked that you're encouraged to have one-on-one meetings with everyone, not just people on your team. It helps you get a better idea of the organization as a whole and meet new people across departments. I had the chance to meet people across the entire company, and it makes my daily job easier because I know who to reach out to in most circumstances.