Getting to Know: Strategy & Operations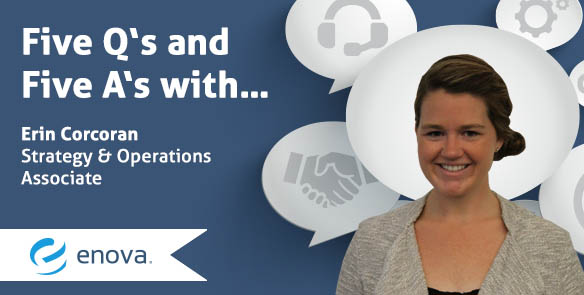 Want to know more about the folks who call Enova home? We asked Strategy and Operations Associate Erin Corcoran our five favorite "get to know you better" questions, and here's what she had to say:
How did you come to work at Enova?
After four years as a traveling consultant, I was ready for a job that would allow me to work and live in the same city.  I was enrolled in the weekend MBA program at Michigan, but I wanted to move back to Chicago where I enjoyed my time as an undergrad at Northwestern (Go 'Cats!).  I did some research, and Enova's job posting caught my attention.  After talking to a few current employees and going through the interview process, I knew that Enova would be a great fit for my post-consulting life!  The rest is history.
What do you do at Enova?
I am a member of the Strategy & Operations team for our CashNetUSA brand. Basically, I work to make sure that CashNetUSA is running efficiently from an operational standpoint. Specifically, I work to streamline our loan processing and application support processes.  I spend most of my day interacting with the call center or working to drive change with the help of other CashNetUSA teams – including legal, marketing, software engineering, and finance.  I also dabble in the quality management space making sure that our call center is providing the best customer experience possible!
What's the best part of working at Enova?
 The people and the absence of a dress code policy!
If you could live anywhere in the world, where would it be?
Vancouver, BC or really any city that is close to both mountains and the ocean!
What are your top three desert island must-haves?
Two friends and my cat, Charles.  If you have to be on a desert island, it would probably be better with others.  Also, you never know what random survival skills your friends could bring to the table!