Getting to Know: Marketing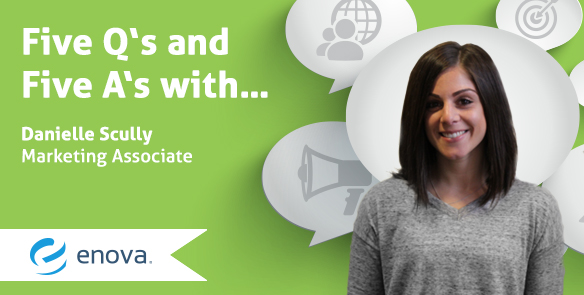 Want to know more about the folks who call Enova home? We asked Marketing Associate Danielle Scully our five favorite "get to know you better" questions, and here's what she had to say:
How did you come to work at Enova?
After graduating from Indiana University, I moved to Milwaukee to work for Kohl's Corporate. After three years as a "Sconnie," I was ready to move back to Chicago to be closer to friends and family. I found the U.S. Marketing Analyst job posting on LinkedIn. I talked to the head of marketing at length about Wisconsin, and the job opportunity at Enova, which made me feel more than welcome to come to town for interviews. After a day at the office, I received the offer, and a few weeks later was a resident of Chicago and a new member of the U.S. Marketing team.
What do you do at Enova?
I started my career at Enova as a Marketing Analyst on the U.S. Marketing team, managing the Leads channel. I was then promoted to Marketing Associate and took on the Affiliate channel (for a short while) and the Call Transfer channel. After 2 ½ years on the U.S. team, I had the opportunity to "cross the pond" to the UK Marketing team. I now manage Email and Customer Retention for the UK P&L.
What's the best part of working at Enova?
Flexibility — in every aspect. Work attire, working hours, the ability to work from home when you need to, learning opportunities, and the ability to change roles without changing companies.
If you could live anywhere in the world, where would it be?
Give me a vineyard in Tuscany, stat! Pizza, wine, sun…what could be better?
What are your top three desert island must-haves?
I'm not trying to be on a desert island for long, so there's only one must-have for me…a helicopter to lift me out of there!