Getting to Know: Development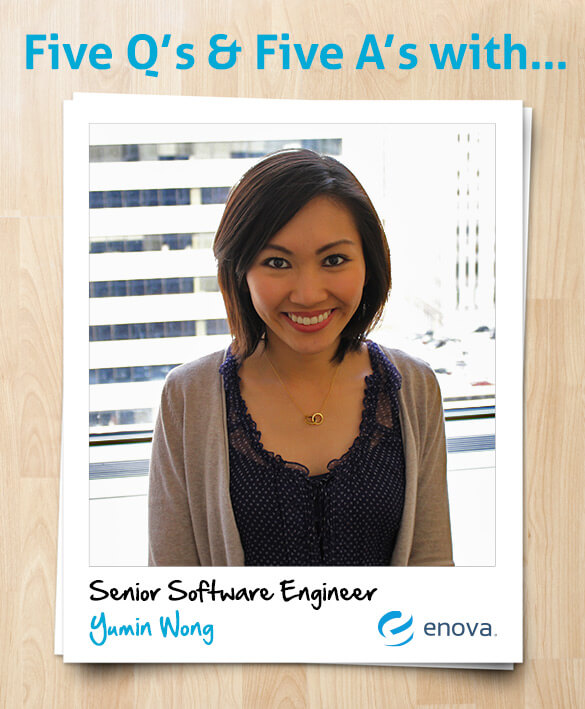 By: Kaitlin Arntz, Public Affairs
April 15, 2014
Want to know more about the folks who call Enova home? We asked one of Enova's Senior Software Engineers, Yumin Wong, our five favorite "get to know you better" questions, and here's what she had to say:
1. How did you come to work at Enova?
I stumbled upon Enova at Carnegie Mellon's recruiting fair. After speaking to the recruiting team, I was especially intrigued by the way they described the culture and technology. During the on-site interview, it became clear how friendly and smart everyone was within the company. On my first day I remember feeling so excited to start working with this group of people — and being located in downtown Chicago didn't hurt either!
2. What do you do at Enova?
I'm a Software Engineer at Enova, currently working on a team to launch a new product initiative. Much of what I do involves supporting the back end of our application by implementing new features, building upon current functionality and fixing existing bugs. Ultimately though, all the developers work as a team to fulfill business requirements and meet our customers' needs.
3. What's the best part of working at Enova?
It's definitely the gratification of working with brilliant and fun-loving people on projects of varying complexity. It keeps you motivated and helps you grow as a person. I learn something new every day, and much of the time it's not even related to development. I just love the environment here.
4. If you could live anywhere in the world, where would it be?
Amsterdam, in the Netherlands. I spent two full days there on a graduation trip and immediately fell in love. It is a beautiful city full of friendly, easygoing people.
5. What are your top three desert island must-haves?
· Flint to start a fire
· A book full of puzzles to keep my mind active
· Hunting tools to keep me alive… or just an endless supply of food