Get to Know: Mike Pallasch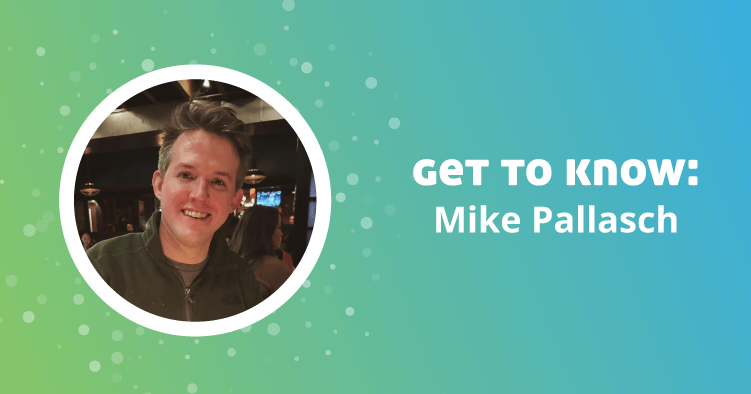 Name: Mike Pallasch
Role: Financial Planning & Analysis Manager
How long have you been at Enova: since September 2021
Why did you decide to join this up-and-coming team?
I decided to join Enova because I wanted to re-enter the world of Fintech, but continue within a Financial Planning & Analysis (FP&A) manager role. I was looking forward to a new working environment, new colleagues and above all, new challenges, where I could leverage (and develop) my skillsets in pursuit of strategic objectives that drive material value.
What is your favorite kitchen snack?
There are so many great treats in the kitchen, ranging from fresh fruit to potato chips to cold brew on tap! However, my favorite kitchen snack is actually not a regular in the kitchen, but a revolving treat for birthdays at Enova. Each month, Enova celebrates everyone with a birthday during the month and brings in locally-sourced treats for the celebration. These birthday celebration treats are my favorite kitchen snack because you never know what the treat will be each month. The fun of a surprise treat and celebrating all of the hardworking individuals at Enova is an extra win.
What is your favorite perk and why?
There are many great perks, but my favorite perk is Summer Fridays! If all work for the week is wrapped up by 2:00 PM on Fridays during the summer we get to sign off early to enjoy the summer sun. The extra weekend time during the summer is great for exploring, spending time outside, or taking a weekend trip. A close second for perks would have to be the paid month-long sabbatical after four years of work here at Enova. This is such a unique perk and it allows people to take time for themselves, whether it be an extended vacation, time to recharge and relax, or even to learn a new skill.
What team(s) do you collaborate with most outside your own?
We collaborate with all brands and corporate service groups.  My team and I spend most of our time coordinating with consumer brand P&L leaders.
What's your favorite space within the office and why?
My favorite room is the Global Finance Room. It's a great room to come together as a team and collaborate.
What makes Enova special?
It's definitely the people. They're intelligent, collaborative, collegial, caring, fun, supportive and willing to give their time (one's most important asset) to help a colleague.
How do you spend your time outside of work?
Outside of work I enjoy reading, biking, gardening, listening to music and podcasts, spending time with family and friends, frisbee, nature, documentaries and occasionally watching trash tv (we all love a little drama.) The great thing about Enova is I have work-life balance and can enjoy all the things I like outside of work. 
Fun fact most people wouldn't guess about you?
I run my entire personal financial life from an Excel model. This includes investments, expenses, mortgage amortization calculator, budget/forecasting, etc. It's full of graphs, trend lines, insights, etc. It's great for organization!
What is your favorite Enova Value and why?
My favorite Enova Value is Top Talent & Teamwork. Similar to many other departments,  the FP&A group has really emphasized teamwork as we either succeed or fail as a team. No lone wolves here!