Fraud Force Summit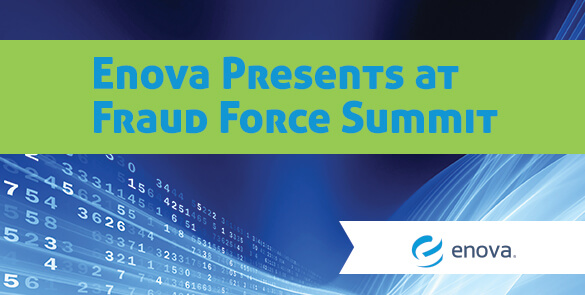 October 14, 2014
By: Mike Failor, Head of Credit and Fraud Risk Analytics
In late April, I got an email from the team at Iovation asking me if I would be interested in speaking at the annual Fraud Force Summit in Portland, Oregon in September. After checking my calendar – the conference happened to fall on my first days back from my month-long sabbatical – and getting clearance from the boss man, I committed to attending the summit. Next, I had to put together a presentation and test it out on my co-workers.
The presentation pretty much wrote itself. I was able to leverage much of it from one I had given earlier in the year at a different conference. However, I did layer in some specific examples of Enova using the Iovation product. For those unfamiliar: Iovation provides solutions for device fingerprinting (device meaning mobile device, computer, whatever technology is used to apply for a loan on our website). Although it was not frequently adopted when we signed up with them many years ago, it has become common for any company operating in the online space to invest some time and effort in device fingerprinting. In my presentation, I give an overview of some of the distance calculations and variable transformations we are employing on the Iovation data to help build the stable of machine learning algorithms Enova is using to catch fraudsters.
The conference was designed to allow attendees time to network and participate in everything that makes Portland unique, including craft brewery tours! I was impressed with the conference lineup, which included the entire spectrum of fraud-fighting professions, ranging from law enforcement and district attorneys, to fraud investigators, to the highly analytical fraud data scientist, and an equally diverse attendee list.
For me, the highlight of the first day was a discussion on the importance of setting up new fraud attacks to try and defraud your own company. By forcing your fraud analysts to think more like fraudsters, you train them to understand fraud better, as well as find weaknesses in your fraud prevention system.
I was scheduled to speak on the second day of the conference. Despite two years of teaching experience, I am still a rookie at conference presentations, this being my third conference discussion ever. That being said, as usual I started off my presentation too fast before I settled down into a much more steady pace. The presentation then moved into a more technical overview than intended. Originally, I wanted to try and keep it high-level enough that the entire audience could follow with enough technical snippets to keep my fellow analytical professionals involved. Instead, I decided that after two days of mostly non-technical presentations, I would go a bit deeper into the data science behind my presentation.
Upon finishing the presentation, I panicked a bit because questions were at a minimum, and I seemed to have lost a decent chunk of my audience. "Did I make it too technical?" I asked myself. As I walked back to my seat to dwell on my performance, I soon realized my fears were unfounded. Fellow data scientists and analytics managers swarmed me to thank me on maintaining a more technical approach to my presentation. They also asked for my thoughts on new ways to use Iovation data in fraud models.
It was great to continue these conversations throughout the networking happy hour with others who saw my presentation, before jumping on the red eye flight back to Chicago.