Enova's Newest Employee Program – Spotlight!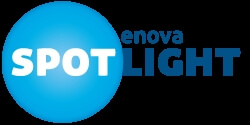 February 28, 2013
By: Lauren Ratcliff
Talent Development Coordinator
The Talent Development Team is excited to announce our new Rewards & Recognition Program- Spotlight! Enova Employees can now recognize their co-workers for a job well done!
At Enova, we want to make sure that Recognition doesn't only come around once or twice a year at review time. We want employees to be able to be awarded as soon as they produce results! It is the hope that Spotlight will facilitate more frequent recognition that is aligned with Enova's organizational values to encourage appreciation for behaviors that drive the business forward. Spotlight is an exciting tool that will enable appreciation to one another and align ourselves with our corporate goals.
This program lets employees get recognized with points they can redeem for items such as:
Concert tickets/Sporting Events
Merchandise (iPads, TVs, Ferragamo bags)
Flights/Hotels
City Experiences
Donation to Charity
The innovation of Spotlight is another fantastic example of the amazing culture we have at Enova!