Enova Volunteers Build a Garden for Envision Unlimited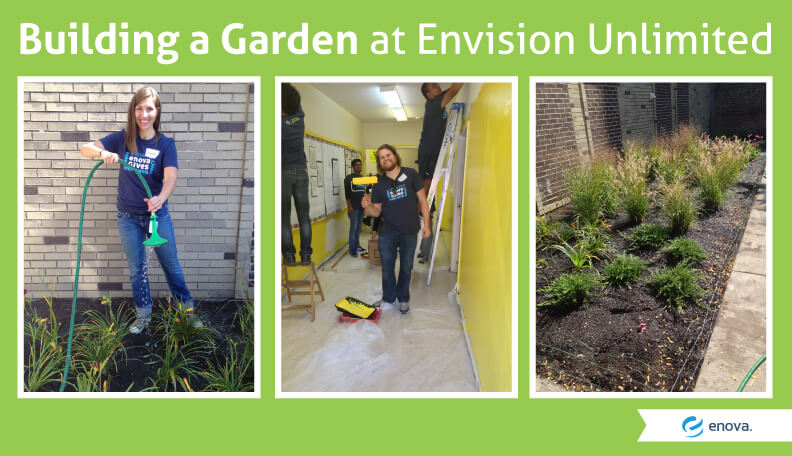 By: Joanna Burgraf, Associate Digital Producer 
Through Enova Gives, we are always looking for ways to help the local community. An opportunity recently presented itself through Chicago Cares, a group that facilitates volunteer experiences for Chicagoans. On Friday, September 26, a group of Enova employees spent the day at Envision Unlimited, a Chicago nonprofit focused on enhancing the lives of children and adults with intellectual and developmental disabilities.
Most of the day was spent creating a garden and courtyard area for Envision within an excavated area on the front of the property. Personally, I was surprised at how much fun we had as a team, as to this day I have vivid memories of avoiding my parents' gardening chores with feigned sickness. But working at Envision with almost 20 fellow Enova employees was a joy. Meeting and working with co-workers from different teams was fantastic, the weather was perfect, and as the day progressed, we were even joined by some of Envision's clients to put the finishing touches on our work.
While the new garden certainly adds an element of beauty to Envision's grounds, it will ultimately serve a more tangible function. For many of Envision's Chicago-based clients and visitors, spending time amidst green things can be tricky. By creating an on-site garden, we were able to help build an environment that can be therapeutic for Envision residents.
Taking part in this event made for a very special day away from work, and I absolutely plan on volunteering again through Enova Gives.