Enova U: Shadowing NetCredit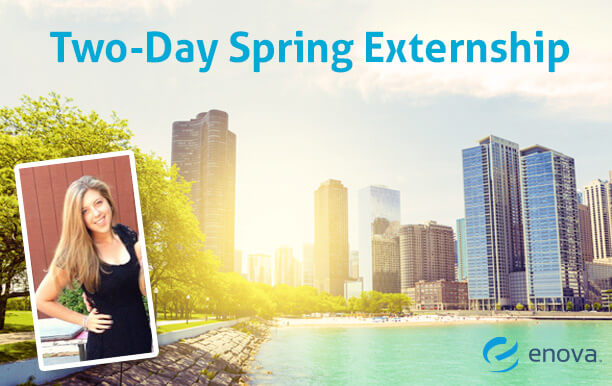 By: Alexa Hanelin
June 16th, 2014
This past week I had the privilege of externing at Enova, a global financial services provider, under Briana Fabbri, Head of Marketing for NetCredit. Ms. Fabbri scheduled a series of meetings for me throughout my first day, in which I was able to interact with other professionals in the global finance field. I was able to jump from software development to marketing, analytics to legal, and almost every subsection in between. Seeing the multitude of roles at Enova broadened my conception of just how many employees it takes for a company to maintain profitability.
My second day on the job was a bit more personal. I spent most of my time with Briana, shadowing her through executive meetings and office work. I was able to experience a new professional setting with the comfort of a mentor willing to explain complicated flow charts and scenarios to me.
I learned many different skills during my two-day externship, most things unquantifiable. I learned what it takes to be successful in a competitive environment. I saw firsthand the importance of communication between coworkers. With so many employees working on a single project like NetCredit, Briana stressed the importance of transparency in the office. In order to be successful post-UChicago, I need to harness what I learn in my core classes. Business is more than crunching numbers. It is being able to work as a team, set goals and exceed them.
I was most intrigued by the software development office space. The ninth floor of Enova's office building was decked out with the latest technology and modern architecture. Being interested in the technology field, this workspace layout would be ideal for creative thinking and effective progress. It was easy to see why Enova employees were so satisfied and successful with their practice.
My experience at Enova was both eye-opening and inspiring. This externship showed me the possibilities that are in store for me. With hard work, I will be able to enter the workforce as a well-prepared, qualified UChicago undergraduate… ready to take on the business world.