Enova Looks to the Future with First Annual Technology Summit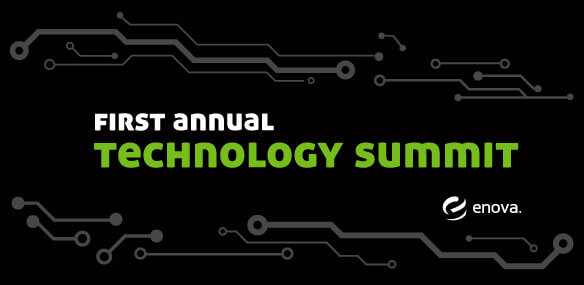 By: John Higginson, CTO
Think back just four years ago… mobile payments, paying with your smartphone or watch, was not yet available. A new company and product called Square launched — promising to provide the ability to take credit card payments on smartphones or tablets virtually anywhere at a low cost. In 2012, PC sales, both Mac and Windows, were still outpacing tablet sales, but they were now second to the number of mobile phones sold for the first time ever. And then, a new buzzword called "Big Data" entered the lexicon.
A lot can change with technology in just four years. Today, consumers, not businesses, drive those changes. Gone are the days when the best technology was on your desk at work. Today it's in your pocket. When consumers decide they want to use multiple devices (phones, tablets) and accomplish any task on them, companies need to adapt. When consumers decide that they want the immediacy they experience with one kind of app for all the apps they use, companies need to be at the ready.
Today, most minutes spent online are mobile minutes. PCs are increasingly becoming a relic. Shopping, communication and banking are done primarily on mobile devices. Our ability to collect many threads of information from many sources ("Big Data"), and use that data to make accurate, instant decisions has given rise to apps that allow us to avoid traffic jams, predict election results and measure creditworthiness of people with imperfect or even no credit histories.
So where will we be four years from now?
A while back, Enova's 200-strong technology team spent the day discussing that future: How we would evolve as a team, evolve our technology and shape our industry in the years to come.
We began the day with a talk from 1871 Founder and Chicago tech icon, Howard Tullman, discussing the trends driving consumer technology. This included trends with taglines such as "data is the new oil," "real time matters, not real place" and "the internet of everything." This set the foundation for the idea that everything starts with our customers.
Over the next several hours, Enova's technology leadership reviewed our next generation architecture, tools and security, including:
How our move to the concept of "software factories" will enable us to move quickly into new products and new markets.
The software we will need to invent to meet our customers on the devices they'll use in the future.
How we will manage a rapidly growing company with customers, software and servers all over the world.
But it's not just about the technology.
It's also about our people, and we talked a lot about our values as a team. Enova began as an idea: We could offer credit online to people with a great customer experience and through real-time analytics. We did it not because we had the right servers or picked one programming language over another, but because we had smart, committed people who created something that never before existed. That's our legacy, but also our future. It's the team that matters most. As I said wrapping up, "How do we get there? How do we realize this future? We get there together."
We also had some fun. During a break we had a contest to design a magazine cover page with a headline for Enova in the year 2020. My personal favorite declared me Forbes' "Banking Technologies New Bad Boy," but the winner captured our ambitions well: "One of the Biggest, Most Impactful Financial Technology Companies on the Planet."
That's our goal. That's our future.
As I close every internal message to the team: "Let's go build some cool things."