Enova Gives with Alana Brown and Marjorie's Kitchen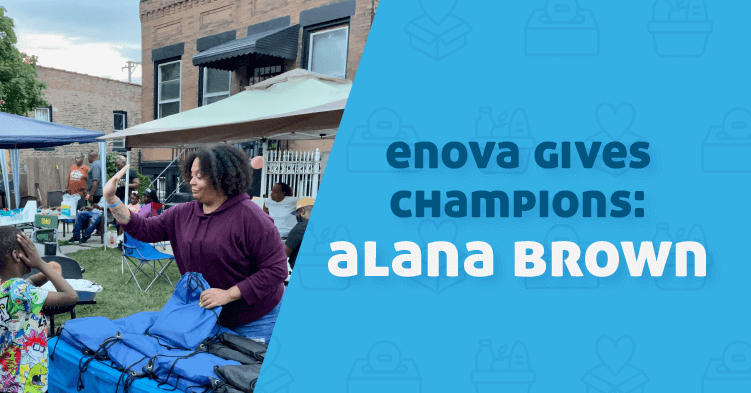 by Alana Brown, Section Manager III
Giving has always been a priority to me! I enjoy giving in a variety of ways:  money, time and talents. As a kid, I learned that doing anything you could without being asked was the greatest accomplishment you could achieve, so I made sure to instill that in my kids as much as possible. Even if I was only able to volunteer at my kids' schools, I made sure to be there to help where I could. 
My partner Shawn's family and I have been connected for over 35 years, and over that time Shawn has always worked in the non-profit sector, and with the youth in the neighborhood. With Shawn's strong connections to the Lawndale community in Chicago, people know who they can call if needed. From assistance with food, resources or advice on their next steps in life — Shawn is the person  people turn to because he never turns anyone in need away. We would do everything we could with any extra we had, whether it was food, clothes or time.
Shawn had a dream of starting his own non-profit and naming it after one of the most selfless people we knew, his mother, Marjorie! Marjorie's Kitchen officially started in June of 2021, and our first act was providing turkeys and ingredients to make Thanksgiving dinner for families in the neighborhood. We were also able to donate backpacks and school supplies to children in Lawndale and Little Village during the Homan Street block party event. In addition to backpacks and school supplies, we provided hot dogs and other grilled food for the festivities. Marjorie's Kitchen was also able to help a family that lost everything in a fire get the essentials they needed, like clothes and shoes. 
I wanted to contribute to Marjorie's Kitchen in my own way. I started and maintained the website, assisted with events and tracked sponsored families presented to us so that we could get them exactly what they needed. Since my daughter died in 2021, my life has sometimes felt empty and unfulfilling, but seeing the relief and joy on the faces of people we are able to help keeps me strong. We hope to help more people in real-time and plan more events to continue serving those in need this coming year.