Enova Gets the Ball Rolling with Big Brothers Big Sisters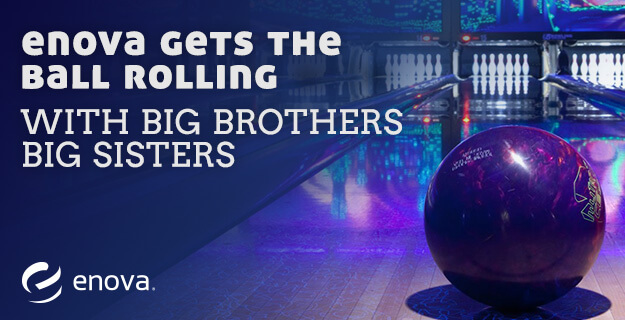 by: Tristin Kupau, Section Manager II
The mission statement for Big Brothers Big Sisters (BBBS) of Chicago is a really simple one: 
To provide children facing adversity with strong and enduring, professionally supported one-to-one relationships that change their lives for the better, forever.
I am one of many who think this is a great goal and was thrilled when I found out I could help support this organization through Enova.  I've always heard about BBBS, but didn't know much about it. I was thrilled to find out that Enova supports the organization, many Enova team members are volunteer Big Brothers and Sisters, and Enova even hosts an annual bowling event. 
For multiple years now, Enova has partnered with BBBS to host an event called Bowl For Kids' Sake. While I am not an avid bowler, I knew that I wanted to be involved and help support such an awesome nonprofit in any way I could. On May 23rd, Enova team members took part in this fun activity, while also being able to help others in the process. 
The idea was simple: get a team together, make a pledge per pin knocked down, knock down as many pins as possible. My team's journey to the event was a little different than most, as we were the only team consisting mostly of members from our Gurnee office. However, even though transportation was a slight hurdle, we were all very excited to be a part of the occasion and we made it there on time (mostly)
When we arrived at 10Pin Bowling Lounge in Chicago, there were signs with 'Private Event' at the entrance. I imagined that there would be a few people socializing and bowling when we got inside. However when we made it upstairs, the venue was packed with people. Music filled the air, while people ate, drank, and did their best to throw as many strikes as possible. The atmosphere was inviting, and we were able to interact with people in person that we would normally have virtual meetings with. It was great to see some familiar faces, and I was even able to meet a few people whom I hadn't formally met before. 
All 24 lanes were booked with people from all different departments and functions of Enova. Everyone was smiling and laughing for the entire two hour event. BBBS of Chicago had representatives there to greet us and also sold tickets for a 50/50 raffle. Each team pledged anywhere from 5 to 25 cents per pin they knocked down during their time there. In total, the pledge donations added up to $1,548, surpassing last years total of $1,270! In addition to that, $513 was raised at the event for the raffle, and $10,000 was donated by Enova. In total, $12,060.87 was raised for a wonderful organization working towards a great cause. 
All in all, the whole event was a success. The food was awesome, everyone was in great spirits, and I believe that ultimately it made the event special to people, knowing that they were doing something to positively impact the community.
One of the reasons that I am proud to work for Enova is the charity work the company is involved in. Through Enova Gives, which encompasses all of the ways Enova gives back to its community, there are also multiple events throughout each year that allow employees to have fun while giving back to the community. Enova also has a charitable matching program to match donations up to $250 to qualifying nonprofits. I will definitely be attending more of these events, taking advantage of the programs offered and encouraging my peers to do the same.