Enova Employees Spartan Up for Another Wicked Tough Race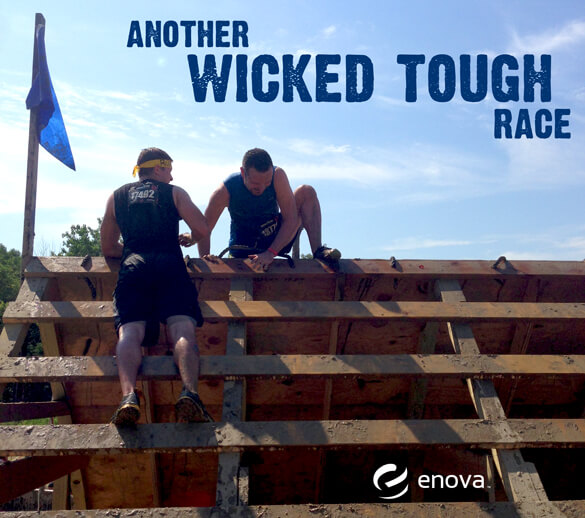 By: Mike Gilhooly, Public Relations Manager
July 24, 2013
A group of masochistic Enova employees joined forces to take on the Spartan Race, a popular obstacle course of "pure primitive craziness." The race aims to get people "active, healthy, excited about change and returning to our ancient roots where running through woods, getting dirty and facing adversity was part of everyday life." It's true, even the hardest day at the office doesn't much compare to leaping a wall of roaring fire. But how difficult could it really be?
On July 20, a team Enova employees including a compliance analyst, a software engineer and a VP, among others, gathered in rural Marseilles, Illinois to find out. They pushed each other through eight miles and 12 obstacles toward the finish line, and this year, the course was dominated by heat and humidity, unique obstacles and mud. A lot of mud. The park is an off-road ATV recreational area with trails that wind through beautiful trees and dips that were perfect for big pits of the slimy stuff.
"There was mud in my glasses that I didn't even see until I got home — and mud in places I didn't even know I have," said Alex King, Vice President of UK Operations. He lost 10 minutes just trying to pull his shoes out of one mud pit. Logs seemed to dominate the course as well, appropriately considering the heavily forested landscape. The Enova team walked across logs, ran over logs in the water and climbed logs.
They also leapt over fire, climbed slick ropes and shimmied under barbed wire, but one of the most interesting obstacles, said Head of Business Analytics Adam McElhinney, was the javelin throw. "Unfortunately, I missed my target and had to pay a penalty of 30 burpees!"
Ancient Sparta also prized this return to primitive roots and required all male citizens to undergo Agoge training, in which they learned loyalty to the group, pain tolerance and social communication. McElhinney said he could see the physical test that the Spartan Race is bringing his coworkers closer. "The fact that Enova supports participation in events like this really shows how much the company cares about its people."