Enova and A Safe Haven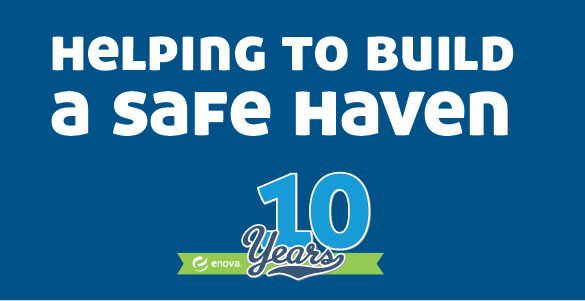 By: Kaitlin Arntz, Public Affairs
May 1, 2014
The purpose of Enova Gives — Enova's charitable giving program — is to contribute to the local community in positive, measurable ways. Through volunteering and charitable donations, Enova Gives has established a culture of giving within the company, which has lead to partnerships with a number of philanthropic Chicago organizations.
One of these organizations is A Safe Haven, a partner of Enova since 2012. Offering homeless individuals an opportunity to transition to self-sufficiency, A Safe Haven utilizes drug treatment and mental health services, along with temporary housing to provide a safety net for those in need with nowhere else to go. As a not-for-profit organization, A Safe Haven requires dedicated investors, which is where companies like Enova come into the picture.
"Maintaining partnerships like the one we have with Enova helps us to maintain our financial foundation," says Vazquez Rowland, President of A Safe Haven Foundation. "Their commitment to our service is about more than money — it represents a very real investment in doing good work within the local community."
As the company's 10-year anniversary approaches, Enova has found a way to contribute to A Safe Haven in a different way: non-monetary donations directly from Enova employees.
"Making A Safe Haven part of our 10-year anniversary is a great way to get people involved on a more personal level," says Joanna Burgraf, associate producer for Enova's Creative Services team. "We're asking all employees who are attending the party to bring items for donation. It's a small contribution, but it's a reminder to all of us that giving something back is a key part of the Enova spirit."