Delighted to Join and Impressed With Corporate Values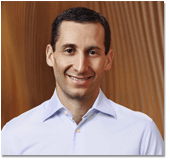 Values That Are More Than Words
April 19, 2013
By: David Fisher
Chief Executive Officer
When I was 14 years old my family moved from Naperville, Illinois, a bucolic suburb of Chicago, to Charleston, South Carolina, one of the oldest cities in America and the launching point of the Civil War. The 1,000 miles that separate these two cities only begins to describe the cultural differences between them.  While joining Enova as CEO in January wasn't as significant of a culture shock as my move to South Carolina, there were many similarities.
What I learned when I moved to Charleston was that a community is shaped by its values and culture.  After arriving there I worried that I would struggle to fit in after growing up in a different community with a different culture.  However, I quickly found a new group of friends with shared interests, including sports and music.
Similarly, when I started at Enova I was anxious about what I would find.  Joining an established, successful company with a well-grounded culture and set of values is very different than playing a part in creating the culture and values of an early stage company. Having now been a part of Enova for a little over two months, I'm incredibly impressed with what I've seen so far.  Culturally, it is different than other places I have worked (jeans and later start times to name a couple of differences).  However, there is a strong set of values that permeates throughout the organization which allows me and other new hires at Enova to quickly understand what makes this place tick and succeed.
Enova is an amazingly innovative technology and analytics company. Only eight years old, the business has generated more than $660 million in revenue last year alone.  It has a global business model and a history of rapid growth driven by an incredibly smart and motivated team.  Enova has grown from a Chicago startup with one product in one country to now eight products in four countries.  Despite the dramatic growth, Enova has kept the entrepreneurial culture and energy from its days as a startup. It now feels like a 1,000-person startup!
In addition to strong leadership and great people, it is clear to me that Enova's corporate values have helped guide the business to success in its early years:
Customer First – Our hardworking clients deserve options, and I see every day how we strive to exceed their expectations.  All of our employees are required to spend time each year listening to customer calls and suggest improvements in the way we deliver our products to our customers.  If our customers don't succeed, we won't succeed.
'Best' Answer Wins – We invite all employees to challenge assumptions and share their unique solutions.  That kind of environment spurs innovation and helps us deliver top-notch products and services to our customers.  It also allows employees to quickly gain additional responsibility based on the strength of their ideas.
Accountability and Results – Employees are encouraged to take ownership, learn quickly, simplify, and constantly improve.  They are entrusted with a great deal of responsibility, but they have to continually demonstrate that they take that responsibility seriously and are contributing to the innovation and growth of Enova.
Top Talent and Teamwork – We hire the best talent in the market, and our employees work in small, focused teams which allow diversity of thought but singular purpose.
Operate Like An Owner – Our top-notch talent is required to think big, move fast, and always appreciate the company's resources as if they were their own.  We all roll up our sleeves and watch our bottom line like start-up owners do.
Values can only drive an organization if they resonate with the employees and become part of the culture.  At Enova, these values are deeply embedded in our strategy and referred to frequently. Our employees constantly challenge each other to ensure they are living up to them.  Consequently, it is no surprise the Enova team has achieved 31% average annual growth over the past four years.  I am proud to be a part of this team now too, and I look forward to our bright future together.