Computerworld Tabs Enova as One of the "Best in IT"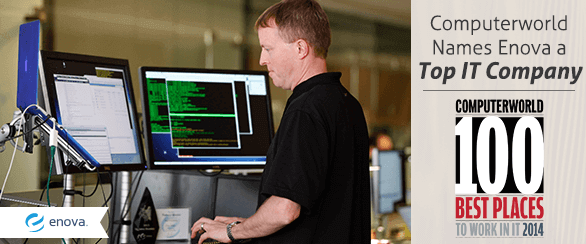 By: Kaitlin Arntz, Public Affairs
June 26, 2014
With their annual list of the "Best Places to Work in IT," Computerworld has once again identified Enova as an enticing spot for IT professionals to land. The list of 100 companies takes into account a number of factors, including key benefits, training and career development. Enova ended up at number 21 on the comprehensive list and ranked eighth in the category of career development.
"It's great to be recognized for the second year in a row as one of the best places to work in IT," said David Fisher, Enova's CEO. "One of our core corporate values is Top Talent and Teamwork, and we're proud to have Computerworld recognize our commitment to building a great culture and environment for our employees."
While Enova's growth has been significant in recent years, the company has worked to maintain the atmosphere of a smaller business. For employees, this translates to extensive opportunities for upward mobility, including a number of services dedicated to personal and professional growth.
"Hiring the best and the brightest IT pros, offering them competitive pay and providing top-notch benefits is just the beginning for the outstanding employers on this year's Best Places to Work in IT list," said Scot Finnie, editor in chief of Computerworld. "Both newcomers to the list and rock-steady stalwarts nurture their talent with challenging business-critical projects, extensive training opportunities and ongoing career development programs. They invest in their own futures by investing in their employees."
Enova is a company that prioritizes the success of its team members and recognizes the importance of giving employees all the tools they need to achieve it. With the recognition of industry analysts like Computerworld, alongside the measurable successes Enova has seen in its recent history, it looks as though the Enova approach is paying off.