Highlights from the U.S. Chamber of Commerce's "America's Top Small Business Summit" Sponsored by Enova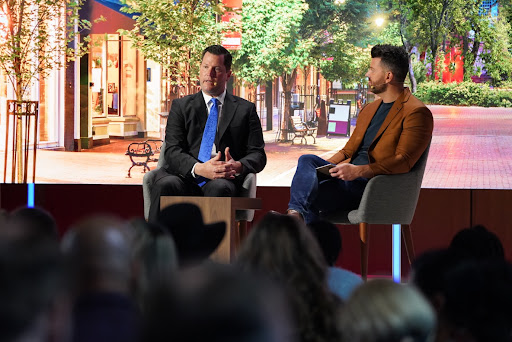 On Thursday, October 19, 2023, the U.S. Chamber of Commerce hosted its "America's Top Small Business Summit," sponsored by Enova and OnDeck. The summit celebrated top small business owners from around the country, bringing them together with industry leaders who explored critical strategies for effectively scaling small businesses and other valuable and timely insights and trends impacting entrepreneurs today. 
A highlight of the event was a fire-side chat moderated by Steve Patterson, host of America's Top Small Business Summit, and that featured OnDeck's Co-President, Cory Kampfer. Attendees gained insights into preparing for and applying for small business working capital, avoiding frequently made mistakes and some lesser-known strategies for bridging the gap between traditional bank-led funding and the unique needs of small businesses. Overall, the summit recognized top small businesses in the U.S., while shedding light on common challenges many entrepreneurs encounter and providing a clear roadmap for overcoming them.
Insights Shared by Steve Patterson and Cory Kampfer
Steve engaged in a dynamic conversation with Cory (from OnDeck), offering valuable insights and practical advice to help small businesses navigate the complexities of obtaining working capital for growth.
Current Economic Climate and Small Business Concerns: 
Addressing the event's central theme, Cory and Steve tackled small businesses' common challenges in obtaining working capital for growth. Cory shared insights from Enova's recent Small Business customer survey, explicitly calling out customers' concerns about the current "credit crunch" and how small businesses continue seeking ways to navigate this with available financing options. He also noted how small business customers commonly face hurdles when applying for loans with traditional banks, including slow turnaround times, inflexible options, and complex paperwork. Cory pointed to findings from a previous Federal Reserve study in which small businesses surveyed spent 24 hours on average researching and applying for credit with traditional banks.
 Succeeding in the Marketplace:
Among other key insights Cory highlighted was the importance of understanding the market and how to manage your finances—reinforcing how critical this is for the success of any small business. He pointed to cash flow management as essential for tracking income costs against expenses such as payroll, rent, utilities and inventory purchases.
Bridging the Gap Left by Traditional Banks: 
Cory discussed a few of the benefits alternative lenders provide, including a much-needed bridge to safe, transparent and appropriate lending solutions for small businesses. He also talked about how, in today's landscape, it's become commonplace for small businesses to face challenges when trying to quickly secure capital from traditional banks. 
While the reasons small businesses seek access to capital vary based on individual needs, overwhelmingly, entrepreneurs are turning to alternative lenders because of faster decision-making processes, more flexible terms and a more straightforward application process. Findings from Enova's Small Business survey revealed that 30% of customers sought loans for unexpected expenses, while 41.8% required funds to boost cash flow. 
Champions of Small Businesses
In a world where traditional banks often overlook the nuanced needs of small businesses, alternative lending solutions have emerged as a beacon of hope. Cory spoke of Enova and OnDeck's unified mission to ignite the aspirations of Main Street businesses, crucial in offering regulated, transparent, risk-based financing to consumers and small businesses in need of or seeking to build credit.
Cory congratulated the entrepreneurs in attendance, acknowledging their critical impact on the U.S. economy. He also emphasized how small businesses are the heart of our communities and serve as engines of innovation, job creation and economic expansion. 
Overall, the event highlighted the U.S. Chamber of Commerce and its partners' dedication to providing the tools and knowledge that small businesses need to scale new heights. As small businesses continue to thrive and adapt to the ever-changing economic landscape, the need to support them and recognize their enormous impact on the overall health of our communities has never been greater.