Meet Hashim Forrester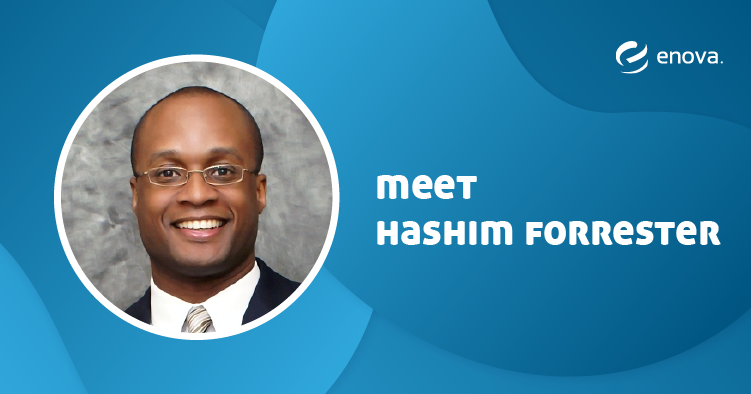 Our Director of Contact Center Operations, Hashim Forrester, joined Enova right before the pandemic. He spent his first year at Enova working remotely. Get to know Hashim and learn why he joined Enova and how he's spent his first year.
Q: Hi Hashim! Why did you choose Enova?
I chose Enova because of its culture and values. At the time, I was not expecting to change jobs, but as I learned more about Enova, its mission, its core values, and after meeting a lot of talented people who work here, I knew I wanted to be a part of this great organization.
Q: What is your favorite part of Enova?
My favorite part is solving problems with smart people. In my experience, I have learned that you don't get to choose your challenges, but you get to decide how you respond to them. I enjoy solving new and complex challenges with my team, especially when the solutions result in a positive impact on the lives of others.
Q: What do you see as the most important part of your role as Director of Contact Center Operations? 
I strive always to have a growth mindset and keep a positive outlook while being a realist. One of my top priorities is to continue building and supporting a high-performance culture where everyone feels like they belong and have the autonomy to Operate as an Owner. I believe those two attributes are vital to delivering exceptional results for our internal and external customers.
Q: How has Operations changed since you joined a year ago? 
A lot has changed over the past year — operationally and otherwise, but, certainly, having to lead a fully remote team through an ever-changing, ongoing global pandemic had the most significant impact.
One thing that has not changed, is everyone's determination. Enova is full of smart, talented people who work hard and put the customer first. With the entire organization working remotely, that has not changed. Team members continue to bring fast, trustworthy credit to hardworking people.
Q: What qualities, habits, and practices enable you to be successful as a leader?
I do my best to stay focused on being a principled-centered leader, reading voraciously, and taking care of my mental health. I consider success a journey not a destination, so I continuously and constantly am learning and striving to be a better version of myself. I love reading about almost everything and finding ways to leverage best practices from other subjects. Practicing yoga and meditation has helped me keep a balanced perspective on everything, especially when chaos is present.
Q: As an Operations Team leader, how do you help your own team grow?
I help my team grow by encouraging them to seize opportunities that they usually would not have taken and supporting them throughout the process. I find that experience is the best teacher, and my ability to coach and ask thought-provoking questions unleashes viewpoints from a different perspective.
Q: Last question: What's something people would be surprised to know about you?
I am pretty good at cooking delicious traditional Jamaican dishes. My parents are from the island of Jamaica and moved to the U.S. as young adults. They opened a Jamaican food restaurant and market 35 years ago and are still in business today. I am the oldest of three brothers, and all three are full-time entrepreneurs.