Get to Know: Ten Chu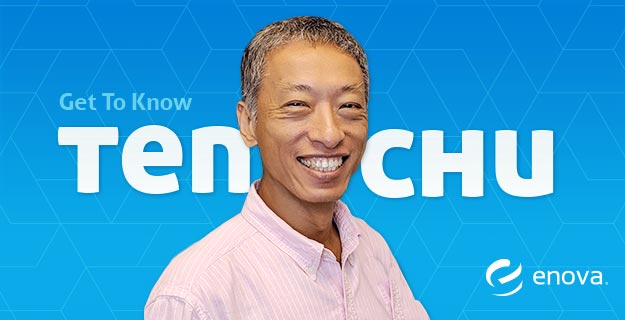 Name: Ten Chu 
Title: Technology Division Head 
Start Date: June 3rd, 2019 
What do you enjoy about the work you do at Enova?
There are a few things I enjoy about working at Enova but I think my favorite thing would be getting to work with very talented software engineers and analysts. Everyone goes above and beyond and is willing to help whenever you have a question. We also get to follow the latest trends and work with cutting edge technology. 
What does a typical day look like for you?
I usually arrive around 7:30 or 8 am and take the first half-hour of my day to read about new industry trends or try something new in AWS before I even open up my email. I'm constantly collaborating with both the software engineering team and departments across the organization, so this half-hour is a great opportunity for me to learn something new on my own during an otherwise busy day.
Between 8:30 and 9 AM, I walk around the entire fifth floor checking in with team members and saying "Good morning." This takes 400 steps and another half hour or so, but I enjoy it immensely. Most of our software engineering teams have daily scrums, and I try to attend as many of those as I can. The teams are great at collaborating and working together, so I just observe. Whenever I have questions, I like to take them back to my desk, think on them and ask the team leads later. 
As previously mentioned, I spend a lot of my interacting with different teams on all sorts of issues — both in high-level architecture meetings that help me decide what I need to pay attention to and smaller team scrums about more discrete, but complex projects. I like learning what my team members are working on, and Tech Talks and "Tea Time" have provided me with those opportunities. Tech Talks are weekly meetings where tech team members can present interesting projects they're working on to the entire company. Tea Time allows smaller teams to get together and enjoy a cup of coffee or tea while discussing complex projects with their teammates. 
What was your favorite part about your onboarding program at Enova?
All new hires go through a two-day onboarding period when joining Enova. My favorite part of the onboarding program was the treasure hunt around the office. The treasure hunt gives new hires an opportunity to see different aspects of the office and learn about Enova while bonding with other new team members. 

What team(s) do you collaborate with most outside your own?
I work with multiple teams across the organization but I collaborate the most with the Analytics and Data Services team. 

What is your favorite kitchen snack? 
I enjoy all the varieties of Cheerios we have available. 

What's your favorite space within the office and why?
The outermost hallway around the fifth floor. Walking around gives me a chance to meet people from different teams and I can get out of my desk for some stretches.