Get to Know: Ryan Rhodes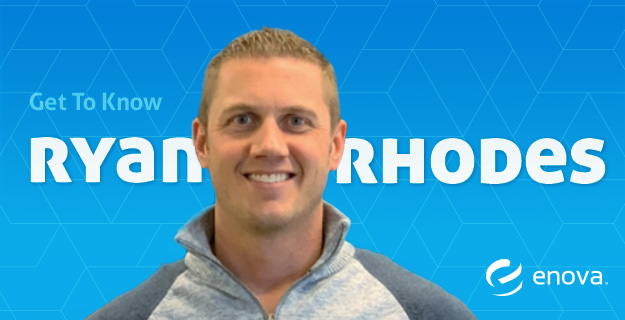 Name: Ryan Rhodes
Role: Utah Site Leader
How long have you been at Enova: April 1, 2019
Q: Why did you choose Enova?
A: I chose to come work at Enova because I believe in the values. Enova has five core values that lead every thing we do. In particular, I love "Customer First" and "Best Answer Wins". 
Q: What is your favorite part of Enova so far?
A: I really enjoy working with people that are committed to making Enova better. Being willing to review long-held processes and procedures and pivot to do what is best for Enova and our customers is a rewarding part of working at Enova. One of Enova's values is "Best Answer Wins," and that means anyone can come up with the best solution — regardless of role or title. I get to work with team members from across the organization, and we're all working together to make Enova better each day. Rapidly growing the Utah office is exciting and, in true Enova fashion, we're experimenting and making sure we can find the best possible solution. 
Q: What do you see as the most important part of your role as an Operations Manager?
A: My most important role is ensuring that I make my teams successful.  As a leader, it is my job to make sure that my teams have all the tools and resources available so that they can achieve their goals. Across the organization, career growth and support is encouraged — helping my teams succeed and grow is imperative. 
Q: What qualities, habits, and practices enable you to be successful as a leader?
A: I am a disciple of the book The 4 Disciplines of Execution.  By focusing on the 4 disciplines (Focus, Leverage, Engagement, and Accountability) it helps me to focus on goals and get results. I also try to approach each of those disciplines with a default to kindness. Acting kind is part of my personal values, and I strive to start from a position of kindness. This fits in well with the Enova culture and value of Top Talent & Teamwork.
Q: As an Operations leader, how do you help your own team grow?
A: I have a background in Employee and Leadership Development and take pride in helping my teams learn and develop new skills. I am actively invested in helping each person achieve their goals and maximize their potential. As I mentioned, Enova is committed to supporting team members' growth. I've met many people throughout the organization who have grown into new roles and responsibilities, and hope I can help each team member on my team do the same. 
Q: What are you most excited about in this role?
A: I am a builder by nature, and I love the opportunity to grow something!  I am looking forward to showcasing the great talent and culture that we have here in the West by continuing to expand our team. It also helps that the office is in a great community and has a killer view of the Rocky Mountains!  Growing a team and expanding an office is exciting because team members have a chance to turn their career into anything they want and their careers will grow as we grow. New team members will be able to make their mark on Enova from Day one. 
Q: Last question: What's something surprising people would be interested to know about you?
A: I used to do Casting for Reality TV shows (America's Got Talent, The Biggest Loser, Deal or No Deal, etc).
Learn more about Enova and join our team.